Your Neighborhood Candy- Wonderland on Staten Island
Do you still have the secret wish to visit the chocolatey wonderland, where the streets were made of flavored popcorns, fountains gushed down with liquid molten chocolates, and the cotton candy clouds floated like clouds?
Well, here at Philip's Candy, we may not have an entire village made of candies, but we do have a candy store on Staten Island, NY, filled with them. And, it pretty much gives the same feels!
Our Candy Menu 
Prices are Per Dozen but you may order any number
*Drizzle, Gold, Silver & White Crystal Sugar additional
Must place Orders One Week in Advance
Prices Subject to Change
Does your pet have a better wardrobe than you do? And more toys than the average three-year-old? It sounds like you have a pampered pooch! So why not take it to the next level by giving him or her the ultimate dog treat.
Philips Candy offers dog bones dipped in white chocolate. There is no cocoa included in the ingredients, so it's totally safe for your pampered pooch!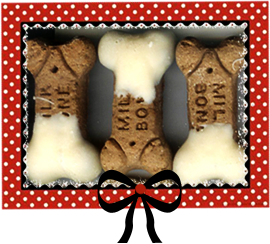 Take a Trip to Our
Candy Store
So what are you waiting for? Take a trip over to Philips Candy - Coney Islands' oldest candy store, and fill up on sweet treats for yourself, the family, and your pet.